This was my second time in Egypt and it was the best trip of my life. Having the opportunity to meet Dr. Hawass and having some quality time with and all the autographs we got is something priceless for me. Thanks to this trip I will be able to sponsor the studies in Poland of one of Dr. Hawass' right hand person, Mr Amr El-Tebie. As such, this trip was the passport for me to enter in the distinguished world of Archaeology and Egyptology that I was dreamed about. I hope in the future to become an Archaeologist/Egyptologist myself and this trip will always be the first opened door in this field for me, which is something that I will never forget. I look forward to traveling with all of you again in the future! Thank you so much!
Bruno Pascon - Sao Paulo, Brazil
Egypt was an absolutely magical experience. I had always wanted to go to Egypt from the time I was a kid. In college, I did a project on Egyptian obelisks, and I had the opportunity to see a lecture by Dr. Hawass when he was traveling with the King Tut exhibit through the United States. Little did I know that only a few years later, I would have the opportunity to tour Egypt with featured tours and lectures from Zahi Hawass. When I learned about the Archaeological Paths tour, I couldn't believe that a trip with such an amazing lineup of activities, private entrances into so many high profile sites, and accompaniment by Dr. Zahi Hawass himself would be so reasonably priced.
Private entrance to the Giza Plateau was likely the most the most awe-inspiring piece of the trip for me personally. Seeing the Great Pyramids and Sphinx, some of the oldest antiquities in the world, was beyond inspiring., Archaeological Paths' private entrance to the plateau made the experience over the top. First we went to the Great Sphinx enclosure (between the paws of the Sphinx) for a private tour with Dr. Hawass with no one else around. Following the Sphinx, our group received private entrance to the Great Pyramid of Khufu. I had the opportunity to traverse the entire pyramid, exploring all three chambers, with the privacy of my fellow tour participants.
Around half of our trip was spent at the Mena House hotel, literally adjacent the Giza Pyramids (you can see the Great Pyramid of Khufu from the hotel). The other half was spent on the most fabulous Nile Cruise. Food was outstanding, sites were delightful, and most importantly, the people were wonderful. Greg and his staff at Archaeological paths were all friendly, helpful, and I feel I will stay in touch with them for many years to come. I also great appreciated our tour guide, Mohammed. He was fun to be around, an incredibly knowledgeable Egyptologist, and helpful to a fault.
Egypt has received such a bad reputation as of late, with political instability and such. But in my experience, the people of Egypt are some of the most warm and friendly people I have ever met in my life. A friend and I had the opportunity to walk through the souq in Luxor, where we met a young Egyptian man obliged to practice his English with us. He literally took us around, introduced us to the locals, walked us to some of the souvenir markets, and the escorted us back to our cruise ship. I would return to Egypt in a heartbeat to experience more of the intriguing history and beautiful culture. If you have always wanted to travel to Egypt and are looking for an opportunity, traveling with Archaeological Paths is the only way to go. They will ensure that your experience will be one that you will never forget.
Michael DeJager - Oklahoma, USA
I already published some of my most amazing photographs on my Facebook page before, but I want to share my experience with others, so that they know it is a tour totally worth their time and money! The two weeks with Archaeological Paths were intense and it was amazing to meet so many people who love history as much as I do. Dr. Zahi Hawass certainly was the big star of the event, we could talk to him, ask questions, take photos, we had this amazing walk around the Sphinx with him. It was something I always wanted to do, but I never thought I'll have the chance. I loved the privacy of sightseeing the Luxor temple at night and it was the moment when I could take the best pictures with the new friends I made on the tour. The view of the temple was awe-inspiring.
The food was great, both in the Mena House and on the ship and the Egyptians - our guides and hotel staff were all so helpful, they wanted to assist us whenever they could. I've been to Egypt once before in 2008, also on an organized tour, because there is no better option to travel in Egypt, but it seems now that back then I didn't see Egypt at all. Before finding Archaeological Paths tour I've never heard about the options of private entries to the Pyramids or to the temples. Besides the itinerary, we had plenty of additional places to visit and activities and I did most of them. I loved the sunrise over the Pyramids on our camel ride, it was spectacular!
Over all, this was the best time I had in Egypt so far, everything was well planned and I felt taken care of throughout. Egypt has this specific charm, it is so different from the US and on this tour I truly experienced it. I recommend Archaeological Paths to archeology fans and people who want to travel in comfort, but at the same time they want to get to know the country. I hope to call them soon to learn if they have more tours like this to offer.
Barbara D. - Massachusetts, USA
Dear Gregory and everyone at "Archaeological Paths" company. What I enjoyed MOST was the time at the Egyptian Museum. The second special thing was time with Dr. Hawass and our guide, Mostafa. They seemed to appreciate my interest and prior knowledge. The staff at the hotel and on the boat seemed to appreciate my speaking Arabic, however limited my attempts: good morning, good evening, please, thank you. I look forward to visiting Egypt again.
Joan Sugg - North Carolina, USA
Thanks again for organizing such an amaizing trip, and I am sure that I will be joining you again!
Maja Brkovic, Serbia
I am writing to thank you for the extraordinary experience you provided with the tour of Egypt. I had a wonderful time and I learned a lot thanks to you, Artur, Jack and all your associates. I still find myself recreating in my mind the imposing temples, pyramids , statues, tombs, obelisks, the view from the ship and the kindness of the people. Of course meeting Dr. Hawas was the acme of the tour. I would like to be informed of other tours you provide! Once again, thank you!
Silvia Theodorescu - California, USA
I had the best time ever. From the moment I arrived at the airport until the day I left, I had so much fun. It was difficult to come home & back to reality after all that excitement and learning something new & seeing something extraordinary everyday. Mostafa was such a lovely and patient & well informed tour guide - we could not have hoped for anyone better. Jack was so much fun as well. I haven't laughed or enjoyed myself so much for a long while since the arabian party and watching him entertain the crowd. I will never forget it :) And lastly - meeting Dr. Hawass was incredible. So thank you very much for everything ! Someone on FB suggested a reunion tour for our group and I think that is a wonderful idea. Bye for now, until my next trip with you.
Karen Woods - Canada
This was a trip of a lifetime. I am very glad to have participated. The archeology sites were magnificent. The cruise ship and Men a House Hotel were awesome. Meeting with Dr. Hawass added immensely to the spectacular nature of the tour. Enjoyed meeting and traveling with the other participants. Archaeological Paths tour leaders were great. I would highly recommend the tour to anyone. I would like to go return to Egypt again! Thanks again for a great tour of this ancient land.
Dan Courtney - Virginia, USA
Thank you for the opportunity to go back to Egypt. I enjoyed the time with Dr Hawass as he is so passionate about Egypt and his profession as well as charming. This is my second visit to Egypt and it was as exciting as the first time. The sights were wonderful and presented very well by your tour guides. I felt perfectly safe the entire time on the tour, the cruise ship was something else. Kudos to the staff of Archaelogical Path Tour company. Special thanks go to Artur, Jack, Mohammed and Mostafa they made the tour the best. Thank you again.
Louise Stein - Washington, USA
Your tour of Egypt far exceeded my expectations. I was a tour guide for 10 years and never had such an educational and thorough course in any country's history as I did with you. It all started at Cairo's airport. Once I saw Artur holding up the Archeological Paths sign, I knew I was in for something really special. Others holding up signs looked tired and unhappy to be up so early in the morning. But Artur had a big smile on his face and was eager to greet all of us. He was really easy to talk with on the tour and we all benefited from the organization and planning that he did.
Our guide was more than a dispenser of information. He showed a passion for the culture and ancient history like no other tour guide I've ever met. We especially appreciated him reading the hieroglyphics for us. He is a walking encyclopedia of Egypt's past and did a thorough job of educating us. Only being a naive and very amateurish lover of archaeology, I was motivated to sign up for your tour because you were including the participation of Dr. Hawass. This was like a dream coming true!! I couldn't believe how lucky I was to not only meet, but to shake the hand of such a famous celebrity and Egyptologist. Dr. Hawass is known all over the world. And my most treasured souvenir of the trip is his autographed copy of the book he wrote: Secrets From the Sand.
There was a Cairo newspaper written in Arabic that mentioned our tour with you and Dr. Hawass. The paper gave you good publicity! Each one of us felt completely safe and I loved everything, honestly. The pyramids, the temples, the Mena House, the cruise ship, your very professional staff, the food, the history, in short: EVERYTHING!! I'll always remember my adventure with Archaeological Paths with the fondest of memories.
Gene Moulton - Massachusetts, USA
First, having Dr. Hawass present was definitely the highlight for me. His knowledge, determination, and enthusiasm were not only outstanding but inspiring. I will continue to try to follow his on-going work, which should encourage other archaeologists to perservere in their discoveries.
Next to Dr. Hawass, Abu Simbel was a highlight, not only the scale of it but the amazing relocation project. I now appreciate even more the complexity of the passages inside the pyramids, having had a chance to navigate the ones in the Great Pyramid. Aswan is awesome, a real credit to Nassar's forward-looking program. I loved the Nile cruise (always a favorite mode of transport) as a change of pace for us, as well as a look at present-day Egypt in parallel and in contrast with ancient Egypt. So many highlights! Thank you for your work make this tour happen. Thank you!
Margaret Bickford - New Hampshire, USA
We should be thanking you. This truly was a trip of a lifetime. I am having a hard time believing that I was actually in Egypt, in spite of the 1200+ pictures I took. It may not have shown on my face, but I was thrilled with everything Archaeological Paths did both in the planning and on the day to day details. No one could have asked for better accommodations. I really had a hard time leaving Mena House and coming back to North Dakota.
Your staff on site was exceptional. Our guides were fun, entertaining and, most of all, they gave us an enormous education on each of the sites we visited. I can't imagine any better guides. Having Dr Hawass available to just talk to in a relaxing atmosphere was unprecedented. I was too star-struck by this archaeological 'rock star' to do much more that ask for his autograph. His lectures were amazing. When I got back home I found out that my grandniece was studying Egypt and I gave her some pictures of Dr Hawass. She was thrilled. Maybe ones of the reasons Dr. Hawass enjoyed joining our group was because we were all there for the archaeology and history of Egypt, not just photo ops to say 'Look at me. I was in Egypt'. Most of us knew exactly what he was talking about and could ask informed pertinent questions.
The staff at Mena House and on our cruise ship were friendly and helpful. The food, the wait staff, everyone was so friendly. At no time did I feel afraid while I was in Egypt. While I am not a very adventurous person, the few times I was alone at a site or walking down the street by myself there was less fear than if I had been in London or New York. The people on the street were friendly. You could read their lips and they were saying thank you for coming to Egypt, we love tourists. My daughter had a woman come up to her and give her a hug. ' thank you for come to Egypt. Please tell others when you go home that we want tourists and not to be afraid.' We had children coming up to us, 'Please can we practice our English with you." These personal experiences put to shame what the world media puts out.
I cannot pick any one specific moment that was the best, each day brought something more than the day before. Please keep me on your email list. I would love to travel with you again. Again thank you so much.
Dolores Stevens - Iowa, USA
I wanted to share my impressions on the tour with Archeological Paths. It was my 3rd time in Egypt - and it was definitely the best. I had a great time, because this time I really got to see A LOT. Before, when I was in Egypt in 2009, it was impossible to go to such amazing places that normally are closed for public. A couple of other things:
1) GUIDES: The choice of guides was inspired as well - they really knew what they were talking about and this was a truly in-depth sightseeing experience.
2) DR. ZAHI HAWASS: I have been to one lecture by Dr. Hawass in the US before and no one could even get near him, so having time to ask him questions personally and listen to what he has to say about current excavations was really something! He spent lots of time with us!
3) Archaeological Paths company: AP handled things so well, they did everything as promised and we saw so many sites NEVER open to tourist. e organizational point of view it was just perfect, the timing, the sightseeing lineup, the accommodation. When I had some questions, they always were ready to give me the info I needed, so I didn't have any problems with communication. They also answered all my questions before the tour and gave us all organizational information before we left. I think their time management skills should be appreciated before everything else, because they really offered so many attractions in just two weeks.
4) The PRICE: I consider the tour totally worth the price, because when I compare it with my previous experiences of other companies and tours and there was nothing like it before, I was amazed at how much we managed to see in two weeks and still we had one or two more relaxing days in the middle on the Nile. And the price included not only all this sightseeing, but also the best hotel you can get in Egypt and the nice cruise ship with delicious food and helpful crew. Thank you so much, Archaeological Paths. And I will be recommending you to all of my friends. Keep me posted about all the next tours.
Joan W. - Virginia, USA
I joined your Egypt tour - one of the most amazing journeys ever, well organized, and wonderful people, I can highly recommend these tours. If I could, I'd join every one of them!
Allyn McCray, Canada
It was a wonderful trip, encompassing 12 thousand years of human history. We started in Istanbul and went through major sites, experienced history of hundreds of years. We also drove down to Troy, we had lunch on the Dardanelles where Odysseus, Jason and the Argonauts travelled. It was something special. I had spent my life reading the Iliad and the Odyssey. To come here and to have the discussion that goes on not only with the leader but with everybody was just great. They have put together a wonderful tour and program. They really know what they are doing and we saw amazing stuff. Absolutely splendid. I recommend it to anybody. Please come to Turkey. It's wonderful, safe, clean, amazing!
James Crawford, Canada
The program was amazing and every day it got better and better. Pergamon was unbelievable and the feeling of being there was wonderful. The tour guide was great, he did as much detail as he could in the short time that we were there and the way they organized the trip was fabulous. Ephesus – I had no words, all I could say was: amazing! I absolutely loved this place and your tour.
Diana Taylor, USA
Every place was actually quite special. The weather had been beautiful, so it was a great time of the year to be there. It was pretty safe. What was particularly interesting about Pergamon and Ephesus – you could put biblical figures into context, it wasn't just a theory or a story you read. It was actually quite interesting to look at a historical thing in perspective. The most interesting feature about the trip was the history and you covered it quite extensively, which was great. We weren't just zoomed in and out, so it was fantastic! I highly recommend it to anybody.
Edith Fortune, South Africa
The trip was wonderful, I can't even tell you my favorite part. It opened up whole new worlds for me. Every minute was packed with something better. We were standing somewhere from 10,000 years ago. It was incredible to feel that you were at that particular point, wondering who they were, what they thought. It was just a wonderful experience and I was so lucky to be there. You get a real sense of the history, the sense of travelling back and you feel as if you were walking in their steps. It changed the way I feel about the history of the world forever. The people were wonderful. When some of us had issues they picked right up and were incredibly well organized. They were thinking about things before we even knew that they were there. I'm so very grateful.
Karla Mahoney, USA
My focus on the trip was coming to Catalhoyuk and Derinkuyu. This was probably the most magical place I could think of on Earth. This was a true cradle of what we know of civilization and where it began, everything you know about your culture, everybody on Earth is related to people who came from there. To me this was one of probably the most holy sites on Earth for the human race, regardless of your religion – this is where it began and it was like making a pilgrimage to the beginning of time. The people were nice and the weather was perfect. I loved the food. The scenery, the culture and the history were just unbelievable. It was wonderful. It's something you have to do! I recommend it to anybody and I've been to a lot of places in the world. This is one at the top of my list. Please, everybody, come and enjoy this.
Michel Workman, USA
The people and the atmosphere were amazing. The weather was beautiful. I loved learning from other people on the trip. I went to Egypt with your company and you guys did a great job, so I went back again a month later.
Mathew Runge, USA
This was my first time in Turkey and I always wanted to see it. What was fascinating about this country – the antiquities, all of the ruins and the landscape. It was just gorgeous up there in Cappadocia. The trip was comprehensive because we went to many places and saw so much that I'm very glad I joined this group. I think that anyone who is interested in this part of the world will have such a great time here.
Ang Hang, China
We had been so packed full. It was a wonderful trip. We had seen so much I don't think we could have done anymore in the time that we had.
Margery Zeller, USA
My husband and I have been to Istanbul twice before and this last tour was the best we've ever had. It was the most informative, everywhere we went things were explained to us and we went to more places than we've ever been. We didn't even know that some of these places were there, so it's been great. I have to say we had never even been upstairs at the Blue Mosque and Hagia Sofia before – and having our guide explain everything to us so well, it was very informative, we loved that. We were told this tour company was very good and I have to agree, the tour guides had been very patient, nice and efficient, we appreciate it very much.
Julie Darnell, USA
I really liked Istanbul, I was there 50 years ago as a young teacher and a student, so it was really nice to go back and to go on a tour, as I could see all the places I didn't really know about fifty years ago. And I could bring my wife too, she's never been to Turkey. We really liked the buildings and the people were always really fun to talk to, because they were all interested in history and archaeology. I knew that we'd only have a fairly small number of people like 20, so it was great because you get to know people as it's not too crowded. We saw the advertisement last fall, so we just said: Let's do it! And we had a great time. People were very friendly and helpful. I speak a little bit of Turkish, so I started talking in it and then immediately I got a very warm and friendly "How are you?" and I just love it in the Grand Bazaar and other places. It's safer than back home, if you go to the city like Providence and New Bedford. I didn't feel unsafe at all and I didn't fifty years ago.
Victor Zeller, USA
We came for riding back in time, first to Pergamon and Ephesus on the road to Cappadocia. It was an amazing tour, my first tour I've ever taken. I've worked with archaeologists and anthropologists in the field for a number of years. That was my way of being able to travel to amazing places. I teach photography in Philadelphia in the United States and I've always wanted to come to Turkey. I finally got a chance to see a lot in a very short time – this was a remarkable way to do it. I highly recommend it. It was a great way to see a lot and actually to understand quite a bit about it. The whole idea of going back in time from what I consider to be ancient times in history was amazing. And I didn't even realize such places as Göbekli Tepe existed. It was so moving for me. When we came back to the site in the morning, my heart was pounding so hard I could barely breathe. Then we went to the museum at the end of the day. We walked back in time from Göbekli Tepe all the way up to Hellenistic time. You could see how there was once something really sophisticated and amazing and then suddenly 12,000 years ago, it disappeared and it's a complete mystery why. It was replaced by a Dark Age and it took 8,000 years for something as sophisticated to come back, but without any of the abstract thinking visible in Göbekli Tepe. This trip was a revelation for me. The travel was great, the people who ran the tour did a wonderful job. They've made us comfortable and made sure we have a lot to happen in a very short period of time. It makes me want to come back to Turkey and learn more. I thank you very much, it was terrific.
Stuart Rome, Australia
This tour was not only about historical, but also ancient research. I love to paint, so everything has switched over in my style now, my method of painting changed from renaissance and medieval to ancient. After this tour everything has just influenced my imagination. It was really magnificent. Everything was so different when we went to all the regions and the climate was diverse too. When we drove through the regions, I was able to see unique landscapes and they were changing within the soul and the rock and with the topography, it was just really beautiful. I took the camera everywhere I went. The best experience on the tour was the work of the travel group, because it was so well organized and it made me feel safe. My husband and I travel alone, this is the first group we've joined, so this was a really great experience for me. Both my husband and I – we just loved it. It's been a personal journey for us. In addition to just researching it, indefinitely write about it, to paint it, nothing can compare with the experience of being in Turkey in person. I would do this again! Everyone was so nice and kind. Everything came from their heart, they were genuine. It's unlike what I've experienced in other countries.
Audra McLendon, USA
Turkey is a wonderful place and I was so fortunate to go there. I've travelled around the world and I have been to over eighty countries and this is a really special place. The people who put on this tour are special and they've done a great job putting the itinerary together. It had a pretty good pace, but not too tiring and it's been just great all around. There's so much archaeology there, it was fantastic. Everywhere you looked, you picked up a rock from the ground, there was just so much history there. We've done so much, starting in Istanbul with the Blue Mosque – it was phenomenal. There were so many beautiful places, it's very difficult for me to pinpoint which place I loved the most. You just can't compare all this beauty. In Turkey, although it's an Islamic country, people were so friendly and nice that I felt completely safe. They are open-minded, open to other religions – the Christians were there before. There were all different types of denomination travelling in our group. It's just a beautiful and safe place – both in the city and in the countryside. I always think you should travel with a purpose, it's very important. I think this tour group really has a fantastic purpose of discovering ancient archeology, changing what we've been taught about history in school – there is just so much more to explore, you have to get into the field and really participate and see things for yourself. You can't just read a book. You have to take this emotionally, physically and spiritually. When we were in Urfa, in a beautiful old section of the town, I was sorry it was the last day. It was such a wonderful trip and the people were friendly and accommodating.
Douglas Nason, USA
Istanbul was brilliant, the history there goes back thousands of years. The program of this tour takes you straight into the culture which I believe is the important thing. The people were amazing everywhere we've been on this trip, it didn't really matter where we went, the Turkish people were so cosmopolitan. This tour has a lot to offer - huge history and fantastic program. The cooperation that we experienced everywhere, wherever we went – the hotels, the coach drivers, everything was just ace.
Robin Turner, Great Britain
It was amazing to see these ancient sites, we crawled into a cave where people lived in for probably a thousand years, unbelievable work – it must have taken over a hundred years to carve it. We felt very safe in Turkey, it was safe to go everywhere. The food was delicious, everything is natural. Ephesus is a huge city with theatres, monuments and statues, it makes you want to go back in time to see what it looked like when people actually lived there. It was an amazing tour, because you go places other tourists don't visit.
Carol Schuler, USA
It was interesting to see places where civilization goes back to about 12,000 years like in Göbekli Tepe and with wide influence of cultures: the Hittites, the Jews, Christians, Mongols in certain parts and Turks, who eventually took over. Coming to Turkey is safe, I haven't seen any problems or evidence that there are any problems going on there, so I recommend that people come and visit.
Adam Tuchman, USA
The entire tour was just spectacular to me. I had anticipated certain things and I was looking forward to some things, but every place we've been was just awesome and far beyond expectations. And as for of the quality of the tour, it could not be better. The quality and the service – everything was wonderful, all of you people associated with the tour, Suat, Thomas – everyone has been wonderful. And if I could take another tour with you, I would do it immediately.
Richard Eklund, USA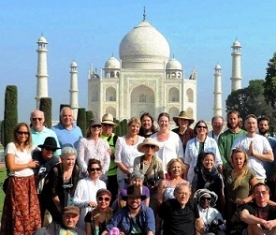 Your last tour to India in March of 2014 was a splendid experience. It was very well run and very well organized. This is no mean feat in India. Gregory Poplawski and his staff were superb and our local guides were excellent. There were so many highlights of the trip. I expect to travel again with You. I certainly hope to join your trip to Egypt in 2015!
Thomas Lemberg, USA
I am writing to thank you for taking part in our amazing journey to India and for the warm and friendly atmosphere that we created together during this extraordinary journey of discovery and adventure to this mysterious country! We have all come back home enriched with new experiences and valuable knowledge!
Linda Hubback - Califonia, USA
Thanks for another great trip. The first was Turkey and now India. Both were mind expand adventures.
Dr. Carl Good Ph.D, USA
Thank you for a fantastic time. I look forward to hearing more about the other trips.
Miles Seiden, Los Angeles, USA
Thank you so much for an amazing trip. I have been on a lot of tours throughout the world with a variety of different tour groups and I have to say that your trip to India was the most organized trip I have ever been on. Visiting third world countries can be a little nerve wrecking and you must always be prepared for the unexpected. However, this trip was so well organized with thoughtful details like personally picking every person up from the airport when they flew into India and tour guides that genuinely cared about our needs helped create a harmonious, stress free experience for us all.
The hotels were nice, we were overfed with lavish buffets, boxed lunches and fresh fruit while we were traveling to a variety of different destinations on buses. The itinerary was outstanding with amazing places for our us to explore and experience without us having to plan anything. Overall, I left this trip feeling like I got my money's worth, in fact I got way more than I expected. I will definitely be joining you on another trip in the future.
Sabrina Reber - Florida, USA
The trip to India was an incredible experience. So many amazing sites in such a short space of time using many different methods of travel. Incredibly well organised and any questions answered clearly. Felt as though our group were always in good hands even factoring in the chaos of India. A beautiful charming colorful and charismatic place and the tour as a whole will live long in my memory.
Aiden Turner - Great Britain
The best bit of the trip was coming home with friendships and memories that will last a lifetime. I am and we all are so grateful to you for organizing and facilitating such a wondrous holiday. I'm dying to see the photos and please give us first choice on the dates for next year and can we please have a reunion in 2016? Tons of love and hugs to you and Artur.
Sheelagh Donelly - Great Britain
I was on your June 2012 Turkey tour and had the time of my life! The trip was well planned and brilliantly executed, and the guides that accompanied us from beginning throughout the end were knowledgeable, personable and all-round wonderful people. This trip opened my eyes to new (old) worlds as we traveled through the country's breath-taking ancient sites, lovingly maintained and preserved. You did a wonderful job choosing and making advance reservations for these site visits...the hotels and eating establishments chosen were first-rate. This care continued during the actual trip. For example, when a main road was closed for repairs and we had to take an alternate, slower route... you called ahead to make sure the hotel would have hot, fresh meals waiting for us well past the usual dinner hour. Now, that's superior service!
Margie Vawter, USA
Your tour to Turkey was the best journey in my life! Your two-week itinerary took us to the absolutely most stunning places in Turkey which is a country abundant in monuments and breathtaking natural sights. The food, the hotels and the guides were all great, really made us savor the experience. I think we loved Istanbul the most with its exquisite gardens and mosques and other architectural works of art. The other region that I will never forget is Cappadocia which was one of the most awe-inspiring places I have ever seen, with its magical underground cities and the dreamy bare-rock landscape. Thank you so much for this tunning experience. I am sure to recommend your tours to others and I hope I will travel with you again soon!
Ann Thomson - Montana, USA
I wanted to take a moment to thank you for a most wonderful tour. It was the first I have ever done, and it was beyond my expectations. It was an adventure to treasure for a lifetime. I think your group went above and beyond to provide us with a look at Egypt's past. One member of our group, who I happen to sit next to on the bus a few times, had been a tour guide. He said that this was far better than any tour he has taken. So I think that says a lot right there. Thank you so much and I hope you continue to offer great tours in the future.
Jo Ann Knight - California, USA
I would like to thank you all at Archaeological Paths for organising such a wonderful trip to Egypt. Meeting Dr Hawass was a dream come true for me. His knowledge and passion for Egypt is contagious. Having special permission to enter certain sites was amazing and the experiences will be with us forever in our memories. Egypt is such a treasure trove of ancient sites and for those who want to go, this is the trip to be on.
Karen and Barry Thomas - Australia
I thoroughly enjoyed my trip to Egypt and would not hesitate to go again. Everybody I talked to before this trip asked about security. There was never even a single moment during which I felt the least bit uneasy for my safety. Everyone welcomed us wherever we went. The overwhelming reactions to our presence were smiles, waving, and people flashing the peace sign.
The Mena House, our hotel in Cairo, has a fascinating history of it's own. In addition to being a world class hotel with staff to match, to be practically in the shadow of The Great Pyramid was otherworldly. Our ship for the Nile cruise and her crew were top notch, too.
Having been a tour guide for 24 years I am a tough critic, but I was very impressed by the patience and professionalism our guides displayed working with our group. Mohammed and Mustafa described the training they went through to become guides, and I suspect they each graduated near the top of their class. Their knowledge of Egyptian history and the details of the sites we visited was amazing. I especially appreciated their willingness to present differing theories, even when controversial. Together with the support staff, their attention to detail and the needs of the group was remarkable.
Like many of the group I signed up for this particular tour because of the chance to meet and talk to Dr. Hawass. Although Dr. Hawass is a rock star to anyone interested in Egyptology, there were plenty of one-on-one opportunities to talk to him and ask questions. His lectures at Mena House and his talks at sites during the tour were exclamations points in an all-star itinerary. Archaeological Paths put together an outstanding tour and I would recommend them in a heartbeat! This trip was everything a "bucket list" trip should be.
Bill Thomas - California, USA
I enjoyed every moment of our tour. The time with Dr Hawass was exceptional. The opportunities we were given will stay with me forever. I have already referred your company to many of my friends.
Shirley Williamson - California, USA
It is hard to state just one thing that Ann and I enjoyed the most about the trip. Certainly, the time that Dr. Hawass spent with the group was beyond our expectations. The multiple lectures and his field comments were certainly a highlight. Our going inside of Kufu's pyramid was another highlight. The early morning wake up was certainly worth our being the ONLY group at Giza from 6-8 am!! We thought that our tour guide was excellent. He knew his history well and his English was excellent.
Ken and Ann Brown - Massachusetts, USA
The trip to Egypt with Dr Zahi Hawass was the trip of a lifetime. European based "Archaeological Paths" company is totally above board and they delivered everything they said they would in their power. The trip was jam packed with the most amazing tours and knowledgeable guides. The hotel was five star gorgeous. The riverboat was great and the food was fabulous. Our guide Mustafa (which we all loved) showed us the key points ,not to be missed ,then we had free time to wander alone with our thoughts in the grand museum. The time with Dr. Hawass were informative, entertaining and felt very special his knowledge and sense of humor kept our rapt attention. To be photographed at the feet of the sphinx with Dr. Hawass and hear his stories was something so special that I will never forget it .I thank the Egyptian government for the special permission we were granted, and to Archaeological Paths for arranging this for us! To say I had a great time is an understatement. My thanks again to all who worked so hard. I will tour with you again in the future. And recommend them wholeheartedly. Thanks Gregory, Sonja, Jack and Mustafa.
Nadya Troche - Miami Florida, USA